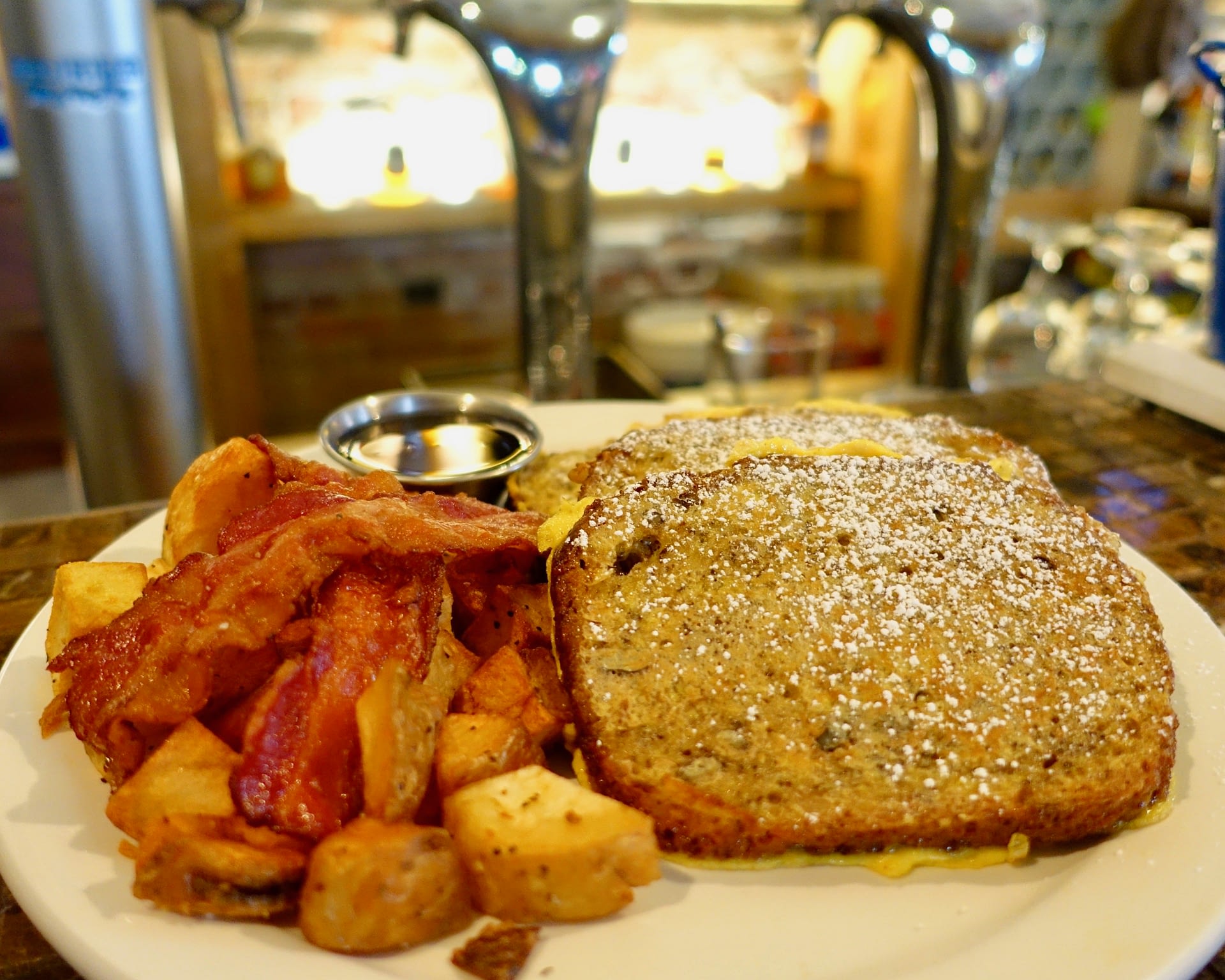 Brunch Like a Champion at The Telegraph Taphouse
In the beginning, there was breakfast and there was lunch and it was good. But soon, intrepid partiers and those who preferred to hit the snooze button pushed back breakfast until it met lunch – and it was still good.
From the simple standby – bacon and eggs – with coffee black enough to nurse the stiffest hangovers, to rich banana bread french toast and sparkling beermosas fit for a king, we're dedicated to creating the best brunch possible – after all, it is the most important meal of the weekend.
Socialize over a late morning breakfast
Each weekend, the Taphouse becomes the watering hole for early-but-not-too-early social gatherings where regulars and first-timers alike meet over hot food, hot coffee and refreshing drinks. With local ingredients from Lethbridge bakeries and nearby farmers, we believe the best breakfasts come from the freshest, wholesome foods and from suppliers who care.
Enjoy a brunch of champions
Brunch can go two ways: savoury or sweet. Your choice rests on you, your mood, and who you're with, so we're not going to try to tell you what to choose. But, no matter the meal you choose, the Telegraph Taphouse has a brunch that will hit the spot.
The Telly Breakfast (Bacon and Eggs) – Not just the choice of poor University students who grit their teeth laying down a fiver and a couple of toonies to pay for their breakfast and coffee, the Telly Breakfast (available in standard and vegetarian formats) is the standby choice of breakfasters and brunchers everywhere. Pair yours with a coffee, if you're a traditionalist, or De Koninck Pale Ale, for those who want to push the boundaries.
Banana Bread French Toast – For those with a sweet tooth, our Banana Bread French Toast features cinnamon & eggs battered banana French toast, with choice of crisp bacon or sausages and home cut hash browns. Lighten up this rich and lovely meal by pairing it with fresh Liefmans Fruitesse or a sparkling beermosa!
Hub Omelet – The Hub Omelet is the answer for those big-brunchers who want a meal that will hold them through until supper. A three egg omelette, filled with pan-fried onions, mushrooms, peppers, grated cheese, served with home cut hash brown, and your choice of toast, the Hub Omelet begs for an equally burly drink, like a De Koninck Pale Ale, or a Guinness.
See the full Telegraph Taphouse breakfast menu here.
Raise your beermosas to brunch
As good as brunch is, the true charm of it lies with the people who gather to enjoy it together. So whether you want to brunch with your best buds, or your whole family – a $6 brunch (plus beverage purchase) is available to all at the Telegraph Taphouse.
Quality, local ingredients, low cost, and great people make the Telly the perfect place to start your weekend off right!
Connect local with The Telegraph Taphouse.