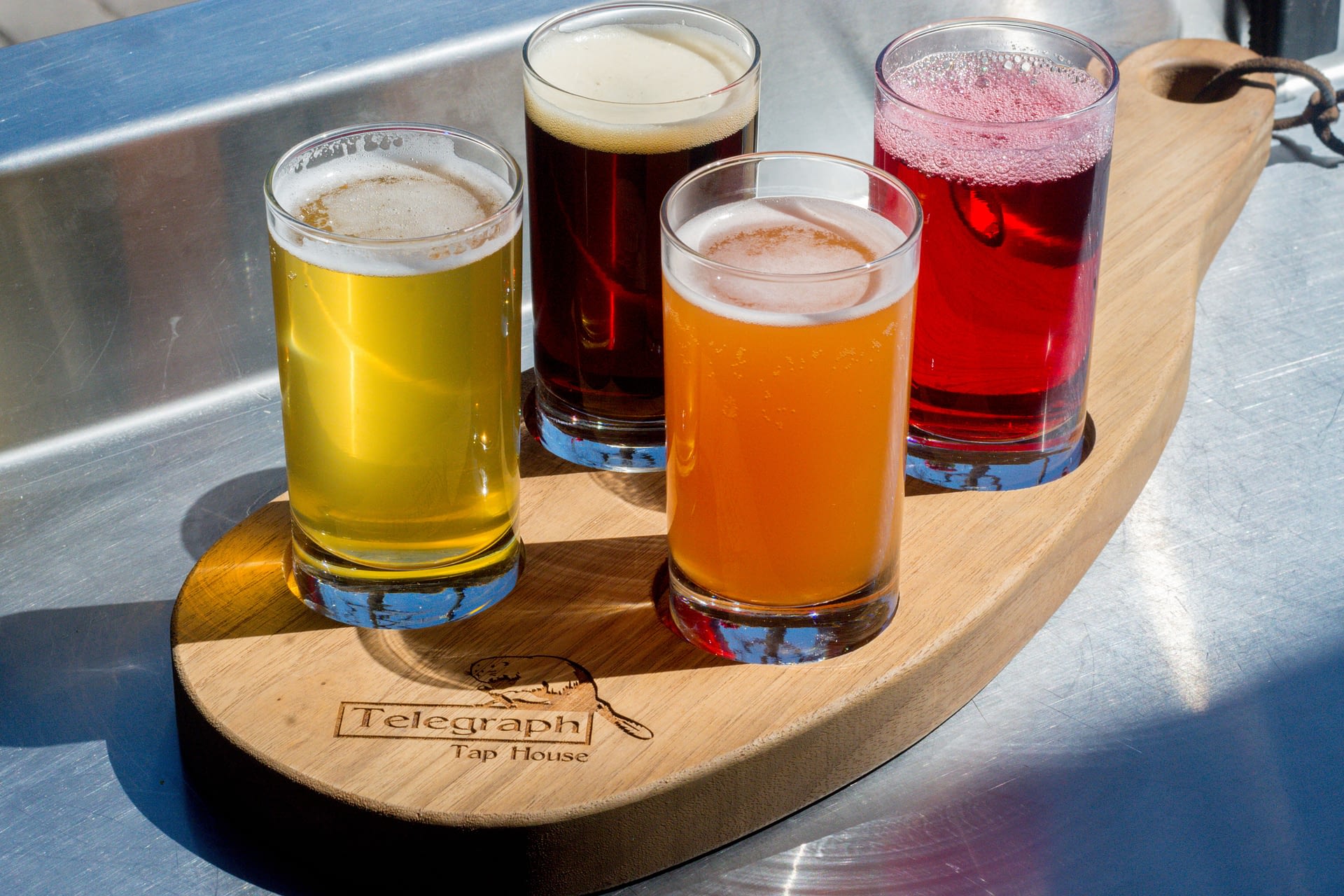 The Telly's
'Flightfully'
  Special
Join us at the Telegraph Taphouse for a special 'Flight Night' to remember
"Beer, if drunk in moderation, softens the temper, cheers the spirit and promotes health." – The wise words of Thomas Jefferson
October may be the month for 'frights' but for those who prefer beer over horror (or perhaps pairing the two together), The Telegraph Taphouse is offering a 'Flight Night' to help Lethbridge residents escape the chill of the coming winter.
The lowdown on October's Flight Night
All puns aside, 'Flight Night,' as the name suggests, features a flight of 6 different beers paired perfectly with a 3 course fixed menu that changes on a weekly basis. So check beforehand for picky eaters, or come every week to taste each new menu.
What to expect from the Flight Night
Your Flight Night begins with a variety of starters to share amongst your table, along with unique beer pairings for each food item. After savouring the starters, your meal moves on to the main course, and likewise, more perfectly paired beer. Your meal ends with a dessert platter to share. However, for those who are dedicated to the #flightlife, there's even more in store…
To settle everything down after your meal, the Taphouse offers a post-dinner digestif (for an extra fee) with a scotch flight composed from 20+ premium choices. This includes scotches from all over the Scottish aisle, from the highlands to lowlands and all the peatlands in between! And for those with a more global pallet, we have the 'world flight,' featuring whisk(e)y from Canada, America, Ireland, Scotland and Japan.
For $89/couple (without whiskey flight) that's one heck of a Flight Night!
*Reservations for your Flight Night must be made in advance,served between 4:00 pm and 9:00 pm, with a minimum of two people required to begin the imbiber's tour of the world.  
Call the Telegraph Taphouse today to book your Flight Night!
Telegraph is
proposing
a deal
We may be a little biased, but if you proposed to your sweetheart with a ring settled neatly inside a flight of beer or whiskey, we think the answer would be a resounding yes! For those like-minded fine drink lovers amongst us, we want to make your night extra special, whether you visit us for a Flight Night or any other day of the year. That's why we're offering a $50 first-anniversary credit to those folks who propose to their sweetheart at The Telegraph Taphouse.
That's $50 towards your first-anniversary dinner at The Telegraph when you propose here!
So whether you're celebrating a relationship old or new, romantic or platonic, come to The Telegraph for a night of shared food and brews that will give you something to talk about, think about, and drink about, for a while. 😉
Call us today for your Flight Night reservations!